← Back to blog
How to Increase Organic Traffic in 2021
Want more traffic to your site without having to pay a cent? Sounds like you should increase your organic traffic.
Want more traffic to your site without having to pay a cent? Sounds like you should increase your organic traffic.
With roughly 4 billion Google searches per day, organic traffic presents a huge opportunity for lead generation. So, how can you increase yours?
We asked ten experts to weigh in on the topic so you can know the best ways to increase your organic traffic in 2021.
What's Been the Most Impacting Factor on your SEO?
Everybody seems to be talking about search engine optimization AKA SEO and for good reason. Growing your SEO is one of the best ways to increase organic traffic and, ultimately, your leads and sales.
Write Helpful Content
Most experts can agree that creating helpful content is the key to a good SEO.
Max Cohen from Max Jacob Cohen explains how people tend to "over engineer" their content. "Write about what your buyer personas are ACTUALLY looking for online," says Cohen. "Focus on helping them get closer to achieving their goals and overcoming their challenges instead of chasing a keyword."
Michael Monyak at BizcaBOOM agrees, adding that "when you create content that genuinely helps your audience, Google is more likely to rank your website higher than others."
Jeff Ferguson at Amplitude Digital sums it up nicely by saying that what has impacted SEO for years now is "aligning content with search intent."
That doesn't mean keywords should be completely disregarded. When asked about the most impacting factor on SEO, Wendy Margolin from Sparkr credits Ubersuggest because it ensures she's "using keywords and answering the questions that the audience needs."
Darius Jokubaitis at Attention Insight is also an advocate for "high-quality content written for low/medium difficulty keywords."
Keep It Fresh
Targeted content, however, is not enough. It has to be relevant and up to date.
"Regularly updating my content has been the most important ranking factor in the last year," says Janice Wald at Mostly Blogging. "Google likes fresh content. Continually adding new information keeps my content fresh in the eyes of Google and its users. When my content is fresh, both Google and search engine users are happy."
Kateryna Reshetilo at Greenice explains, "Google started punishing websites that have a lot of outdated content, so even new content gets dragged down by the old one." Because of this, Reshetilo plans to "update our content throughout 2021 on a monthly basis."
A Network of Backlinks
We've talked plenty about content but what impacts SEO behind the scenes?
Reshetilo believes that revamping their link building strategy has worked "exceptionally well" in increasing their SEO, especially "expert round-ups and guest posting."
Alongside high-quality content, Jokubaitis gives equal importance to "backlinks from high-authority websites in the form of guest posts, tools lists, etc.," when it comes to increasing SEO.
We'll dive deeper into guest blogging later in this article.
Where do you Share your Content to Get More Visibility?
The more visibility your content gets, the more likely consumers are to search for your company; therefore, increasing organic traffic.
When it comes to sharing your content, there is no "one right place." As Jeff Ferguson puts it, "It's all about finding out where your target audience hangs out and making sure you're there and communicating the way that aligns with that space."
That being said, social media such as Facebook, LinkedIn, Instagram, and Twitter, is a must when it comes to gaining more visibility.
"YouTube is the world's second largest search engine and, let's be real, will probably replace college education one day," says Max Cohen. "If you're not paying attention to building a YouTube presence, then you're missing out on a huge visibility opportunity."
While it may seem like social media has taken over the world, email marketing is still a popular choice amongst experts as long as it contains relevant content.
Industry and audience related publications is another great place to share your content.
Michael Monyak says, "Industry related forums can get quite a bit of attention if you really do your research to find the right ones."
Jan-Willem Bobbink at NotProvided shares his content anywhere that relates to his clients' audiences. "B2B has different user segments than B2C domains. Where you share your content can vary between big news outlets to small focused LinkedIn groups."
Moral of the story: Know your audience.
How Do You Find the Right Keywords to Target?
Keywords are an essential part of SEO and content optimization so finding the right keywords to target is crucial in increasing your organic traffic.
Start in the "Real World"
Jeff Ferguson starts his keyword research "in the real world with a brainstorming session with the client and our team."
Although there are various tools that can help you find keywords, many of our experts agree that starting "in the real world" is highly beneficial.
"This step usually provides us with insights that only a subject matter expert could share," says Ferguson.
Both Kateryna Reshetilo and Darius Jokubaitis begin their research by talking directly with their clients and by looking at their competitors' research.
Jan-Willem Bobbink takes this a step further by doing a "full market analysis, downloading competitors' keywords, and mapping the full customer journey."
Competitor insights are useful because, as Andrew Maffettone from BlueTuskr puts it, "we find either where our competitors are beating us, or where they may be missing out and we create content around those keywords."
And that's just the beginning!
Keyword Research Tools
Once you have a general idea of what your consumers are looking for, the next step would be to use a keyword research tool.
Some Popular Tools Our Experts Use:
Ahrefs
Semrush
Answer The Public
KWFinder
Search Engine Results Page (SERP)
KeywordsEverywhere
These tools are extremely useful in understanding the metrics, such as ability to generate leads, competition level, and search volume, behind a certain keyword.
Search Volume and High vs Low Competition
Arguably, the two most looked at keyword metrics are search volume and competition.
Josh Barney at Einstein Marketer does an excellent job of summarizing the outcomes of each variation of the spectrum.
"It's very rare to find a high volume keyword with low competition – there are just too many tools and too many clued up search marketers.
Low competition and low volume provides decent long-term rewards (in terms of a constant dribble of traffic) with very little marketing effort.
High competition and high volume keywords provide big rewards when successful, but they require a lot more work to succeed with."
Ideally, you'll want to look for keywords with low competition and both Janice Wald and Kateryna Reshetilo recommend a minimum search volume of 100.
Don't Stress Perfection
Although metrics are important and should be considered, they don't need to be followed to a T.
"Do NOT obsess over finding the perfect keyword and crazy 'positive' metrics for them," says Max Cohen. "It's not worth your time."
Cohen stresses putting out content that is relevant and helpful to your audience over content that has positive metrics.
"I don't let little to no information stop me from writing about content I know is relevant to my audience because not every keyword and short/long tail variation of them is tracked. If five people search a term per month and its super niche, that could be your next five customers. You never know."
Jeff Ferguson also shares this view.
"We like to focus more on topics than specific keywords these days," says Ferguson. "While people obviously still search using keywords or phrases, Google's algorithms have become much more complex in the past decade and can provide results that don't always line up with a page that is focused on a single term."
"Some subjects don't get a lot of searches, so it's important to not throw something out just because it only gets a handful of searches each month."
Do You Have a Guest Blogging Strategy in Place?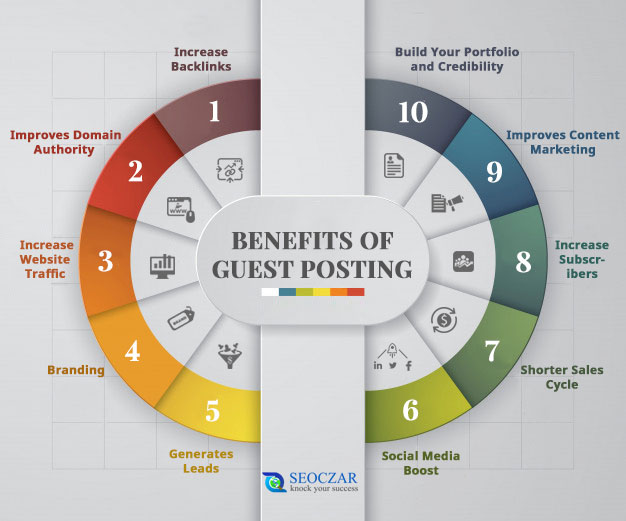 As mentioned before, guest blogging is a great way to increase your visibility and organic traffic. Why else would we write this article?
I'm kidding… mostly. In addition to increased visibility and organic traffic, guest blogging can help you build relationships and establish yourself as an authority figure within your industry.
"Even though some claim guest blogging is not as lucrative as it once was, we don't believe that," says Andrew Maffettone. "We find the backlink you get is still just as strong but also the relationship you build with the company can be leveraged in different ways as well."
Josh Barney explains how useful it is to receive guest post submissions from relevant blogs in his industry.
"It gives me a direct line to editors, writers, and website owners. We use these to reach out to blog owners who already know us which yields 10x better responses than cold emails."
Jeff Ferguson stresses the importance of establishing goals when guest blogging.
"Our 'link building' methodology is based on classic public relations strategies. When we're doing outreach for clients, we have established goals, such as getting an executive interviewed or submitting an op-ed/guest post."
How Do You Ensure Your Website Speed is Always Top Notch?
When it comes to web design, one thing that's often overlooked is website speed.
I'll admit it. I'm impatient. If a website takes too long to load, there's a good chance I'll click off. I bet I'm not the only one which can be detrimental to your amount of organic traffic.
Not only will your audience appreciate a top notch website speed, but Google also takes this into account when ranking your website.
"Keeping your website speed in check is much easier than it used to be years ago," says Jeff Ferguson. "Instead of constantly checking with the various page speed tools, SEO tools like Semrush have it built into their service. Plus, Google Analytics keeps track of this on a web page by page basis and their machine learning even alerts you when it notices changes."
Nowadays, there are so many tools that can monitor your web page speed.
Here are some recommended by our group of experts:
Google Analytics, Console, and PageSpeed Insights
Semrush
GTMetrix
Our experts also advise against large images in headers and content because they can slow down your website speed immensely.
"Remember, most folks are going to reach your content on a small mobile phone so your picture quality does not need to be stellar," says Max Cohen.
A big thank you to all our experts for sharing their secrets! Now it's your turn to become organic traffic experts and who knows? Maybe you'll be featured in our next expert article.
Related articles
← Back to blog